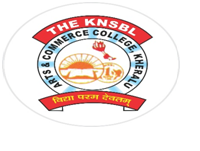 THE K N S B L ARTS & COMMERCE COLLEGE, KHERALU
COLLEGE WOMENS DEVELOPMENT CELL
Keeping with the statutory requirement of the Hem.North Gujarat University andUGC the college has constituted the Women Development Cell. The cell,comprises with the Principal as the ex officio member, one senior female professor as chairman and five members from the teaching staff and one student. The primary objectives are prevention of sexual harassment and promotion of general wellbeing of the female student. It organizes a series of workshops, lectures, discussions and film screening to sensitize the young minds regarding gender related issues. It awakens and empowers women with various activities such as a self -defence course.
COLLEGE WOMENS DEVELOPMENT CELL
1
PRIN. DR. B J CHAUDHARI ( EX OFFICIO MEMBER)
2
PROF.DR. MINABEN PATEL ( CHAIRMAN)
3
PROF. DR. S B PRAJAPATI
4
PROF. DR. HIRAL PATEL
5
PROF. RINKAL CHAUDHARI
6
PROF. SAROJ CHAUDHARI
7
PROF.SHITAL MISTRY
8
MISS VISHVABEN VELANI (STUDENT)

કોલેજમાં અભ્યાસ કરતી વિધાર્થીનીઓની વર્ષવાર એક સૂચી તૈયાર કરવી.
પરીક્ષાની નોટીસ થી લઈને વિદ્યાર્થીનીઓ માટે યુનિવર્સીટી સાથે થયેલતમામ પત્ર વ્યવહાર ની ફાઈલ રાખવી. જો શક્ય બને તો વર્ષ વાર કોપી સ્કેન કરીરાખી ફોલ્ડર બનાવવું અથવા તો સોફ્ટ કોપી રાખવી.
કોલેજમાં વિદ્યાર્થીનીઓ માટેના એક અલગ રૂમની વ્યવસ્થા કરવી.
સ્ત્રીશશક્તીકરણ અંગે ના વ્યાખ્યાનો તથા કાર્યક્રમોનું આયોજન કરવું.
ગુજરાત સરકાર તથા યુનીવર્સીટી તરફથી સૂચિત કાર્યક્રમોનું આયોજન કરવું.
વિદ્યાર્થીનીઓને સ્ત્રીશશક્તીકરણ અંગે સરકાર તરફથી જાહેર કરાયેલ બધી યોજના અંગે માહિતગાર કરવી.સેલ્ફ ડીફેન્સ ના તાલીમ ક્લાસ કરવા.
કોલેજકક્ષાએ વિદ્યાર્થીનીઓના વિવિધ પ્રશ્નોનું યોગ્ય નિરાકરણ કરવું.
શૈક્ષણિકવર્ષના ક્રમાનુસાર કોલેજકક્ષાએ આયોજિત આ સમિતિનાસર્વેકાર્યક્રમોનો ફોટોગ્રાફ /મિનીટસ(અહેવાલ) /વિદ્યાર્થીઓ /અધ્યાપકોનીહાજરી ની નોધ/ પ્રેસનોટ સહીત ની એક ફાઈલ તૈયાર કરી રેકોર્ડ રાખવો.