TITLE– HELPING HAND……HAPPY TO HELP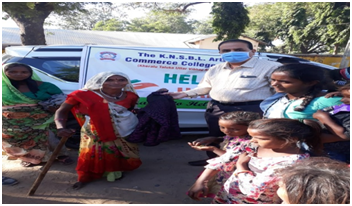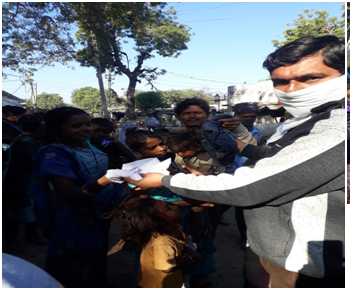 "Educating the mind without educating the heart is no education at all."  So to instill the ethos of moral values & principles and to sensitize the students, every year we help the deprived and needy people of our area. We visit many slum dwellers and generously donate woolen clothes, stationery, toiletries, food, medicines and such other day-to-day items, which could give these people a decent living. These efforts of the college help students realize their social and moral duties and make them more sensitive towards needy who strive hard even to earn the bare essentials of life.
TITLE–SELF DEFENCE TRAINING PROGRAMME FOR WOMEN: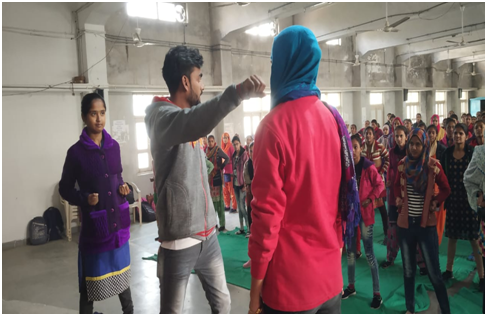 Keeping in view the utmost importance of the safety and security of girl students, every year the college organizes a 'Self Defence Training Programme' in collaboration with Police Headquarters, Mehsana. Through the on-campus training camps of 15 days each, the girl students get the confidence to handle any such situation if encountered and learn a lot about protection and the importance of moving forward and being on the defence.
TITLE–THALASSEMIA CHECK-UP – GATE WAY TO POSITIVE HEALTH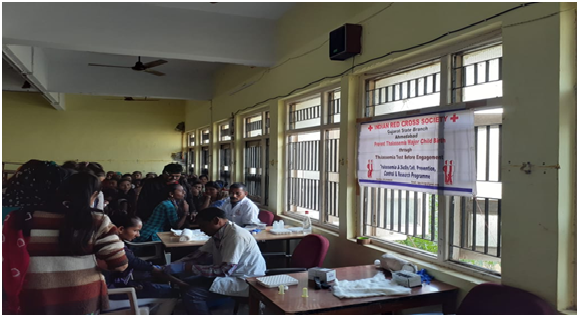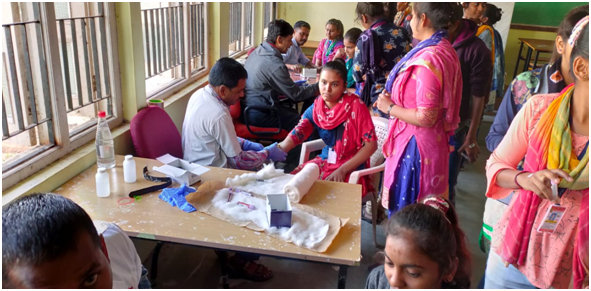 It is important for individuals to be aware of their Thalassemia trait status.Therefore, Thalassemia Check-up is organized in order to ensure the awareness regarding the same amongst students. It covers Sickle Cell Anemia Check-upand Thalassemia Check-up.
TITLE- PRIZES TO STUDENTS BY TEACHERS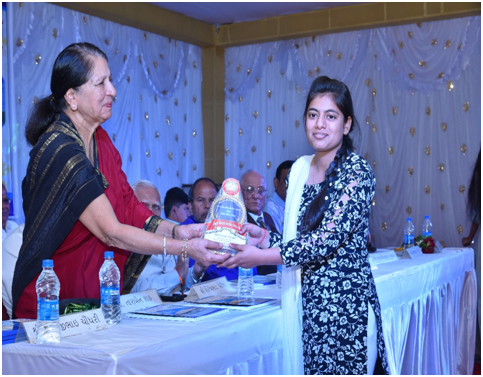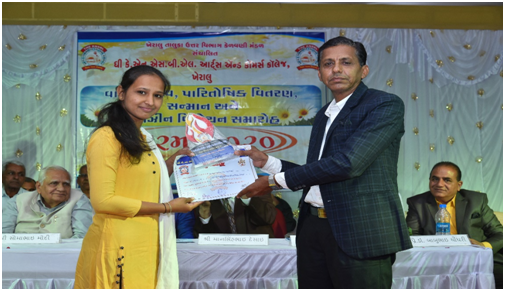 Every year we organize prize distribution ceremony for the students who achieved best performance in study, sports, and culture and college activities. Our management gives medals and prizes to the outstanding students. Felicitation and cash prizes for the students for their outstanding achievements in curricular, co-curricular and extra-curricular domains at various levels. Our teachers give special medals to those students who achieve highest score in their respective subjects.
Felicitation of the faculty members for their distinctive achievements in the field of academics and research.
TITLE–OFFICE AUTOMATION- ACCURACY AND PRECISION
The goal of the practice is to bring ease and efficiency in the administrative work. It is also to maintain accuracy, decency and accountability of the office work. It is to make office more transparent and increase its accessibility. It is eco-friendly practice that aims at making office work paperless and thus save the environment. Office work is very strenuous. It is difficult to create record and maintain it. Moreover, the record is of different types and is maintained at different levels. It creates redundancy in the work. Thus office work is laborious and time consuming. One cannot expect complete accuracy in the office work as there remain number of human errors. As there is less transparency in the documentation, there is lot of scope for malpractices. It is also very difficult to maintain physical data in the form of papers and files and after certain period of time it has to be discarded. In that case retrieval of information becomes impossible. 
Practice:
For office automation we have installed Office Management Software. It has got office-task oriented useful tools. The complete automation of the office is possible by the use of this software. It has proved to be highly useful in the admission and enrolment process of the students. With the use of this software it has become easy to register the addresses and contact nos. of the students. This software can make the process of classification simplified and we can easily make the classification of the recorded data i.e. preparing students" list caste wise, category wise, medium wise, stream wise, gender wise and subject wise. We also use this software for preparing I-card of students. There is automation of complete admission process and fee-structure too. It can maintain fee register and can provide information of the pending fees in shortest possible time. With the help of this software admission process can be executed smoothly. The special feature of this software is that the source data is created in a very accurate manner. Once it is created, the same data can be shared in the library, internal mark calculation, scholarship section etc. Thus it leads to the sharing of the resources and avoid redundancy of the work. At the same time this data is systematic and has scope for multiple accessibility. It can be accessed from different points. The important notices and information are communicated to each student by SMS. Various certificates like, Bonafied Certificate, Transfer Certificate, Attempt Certificate, etc., can be issued by it. Account of College is maintain by software of Tally 9.1 and it will updated regularly. It saves lot of time and efforts of the office staff. Moreover, one can easily retrieve the information even after a long time.
Evidences of Success:
It has saved lot of paper work and unnecessary repeated work.
Problems Encountered:
Installation and maintenance of the software is expensive matter. It also requires skills and training to operate the software. Sometimes it is a challenge to create accurate source data.